Plan a Holi celebration with your colleagues!!!
Another 10 days and whole India will become a canvas and be painted by its diversity of the 1.2 billion population. The festival of colours and It is the right time to convey the message of love, trust and brotherhood and at the same time, the time for strengthening the bond of love & friendship. What can be a better idea to break out of daily office routine and confines of your own cubicles? We will suggest why not celebrate it with your colleagues? Why not announce a Holi celebration at your office? And you don't need to stress out because we are always here to present complete event management solutions for corporate sectors.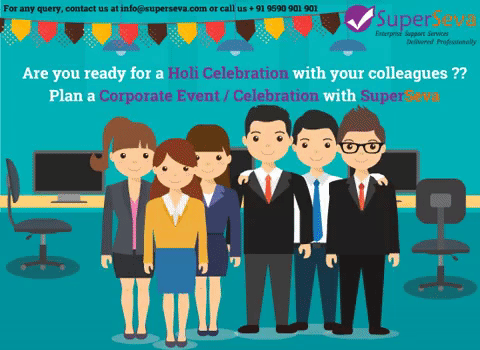 With our experience of 16+ years in the industry, we understand the company standards and we can design an event which will be equally full of fun but also neat and environmentally friendly.
Our idea of belief in creativity and cost effectiveness is what makes us one of the reputed Corporate Events Management Solution provided in the market. Our presence in major cities like Delhi, Mumbai, Bengaluru, Chennai, Hyderabad, Pune etc gives us an opportunity to spread our wings across India and arrange the best corporate Holi celebration experience for you.
Why SuperSeva's Event Management team?
1. A dedicated Event manager will be present to take care of all the needs
2. Experts and experienced in handling and organising major events for the big industry giants
3. Event design and strategic planning
4. Event theme, branding and collateral
5. Programmed design and dynamics
6. Comprehensive project management
7. Communication with your attendees
8. Securing speakers and entertainment
9. Menu design, catering and banqueting
For more details on Corporate Event Management Solutions & planning a Holi celebration at your office contact us at info@superseva.com / sales@superseva.com or you can also call us at +91 9590 901 901